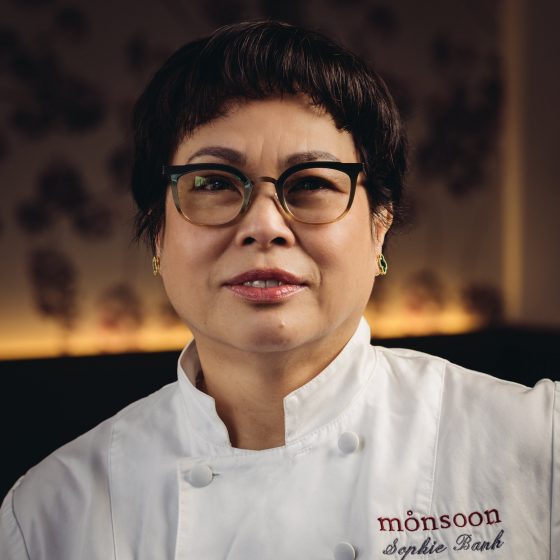 Sophie Banh
Executive Chef & Founder
Sophie Banh is Executive Chef and (alongside her brother) co-founder of the Saigon Siblings. You can find her most days working in the kitchen of either Monsoon Seattle or Monsoon Belleuve (or both!). You can read more about her and her husband Sowady's history as well as the origin of the Saigon Siblings on the Our Story page. Here's a few interesting facts:
Hometown
Saigon, Vietnam
Previous Jobs
Bank Teller
First Restaurant Job
Server at Phillips Seafood in Baltimore
Favorite Seattle Restaurants
Lark, Nishino
Favorite Late Night Snack
Hawaiian Pizza at Pagliacci
Favorite Vietnamese Dish
Phở
Perfect Day Off
A perfect day is getting up early to work out and then heading into Monsoon to say hi to the staff. Maybe have a bowl of phở with a cup of green tea. At the end of the day, I enjoy coming home to see Red, who is our four year old boxer.
Alternate Universe Career
I would own my own fresh produce market.
Favorite Part of The Pacific Northwest
Fresh Seafood
Next Vacation Location
Paris
Favorite Movie
Mama Mia
Favorite Book
Pok Pok
What have you learned?
Work hard, work hard!